Welcome to our Cannabis Report, a reliable source for investors to receive the latest developments and analysis in the cannabis sector.
Aurora Cannabis Cant Produce Enough - At Limits - Watch Midas Letter Video
Top Trading Pick Canopy Growth CGC- NYSE
The Marijuana Industry (MJ) has finally made its way to the NYSE big boards with quite a few notable names finally graduating to the US Market. While some names have seen more of a rollercoaster ride like Aphria (OTC:APHA) and Tilray (TLRY), other names continue to grow responsibly through acquisition like Canopy Growth Corporation (CGC).
The trouble of course with assessing this group is that it's unlike many other booming industries of the past century. The marijuana industry does not fit most EPS defined models, as most companies still do not have positive annual earnings per share. We believe it's unfair to disqualify companies as a growth investor as long as revenues are making up for this lack of earnings. It's obviously important that earnings do show up, but some industries like biotech (IBB), internet stocks, and medical devices (IHI) don't always have the earnings in the early stages of their growth. Therefore, we believe it's crucial in not missing these groups to be more open-minded and be willing to look at companies that have astronomical sales growth even if the earnings haven't shown up yet. Canopy Growth is one such company, and those writing off the company for potential investment based on negative annual earnings per share may end up missing the boat.
Trading Summary
Cannabis stocks finished February strongly while keeping the momentum alive in 2019. Horizons Marijuana Life Sciences Index ETF (OTC:HMLSF) gained 4.6% and ETFMG Alternative Harvest ETF (MJ) gained 1.6% last week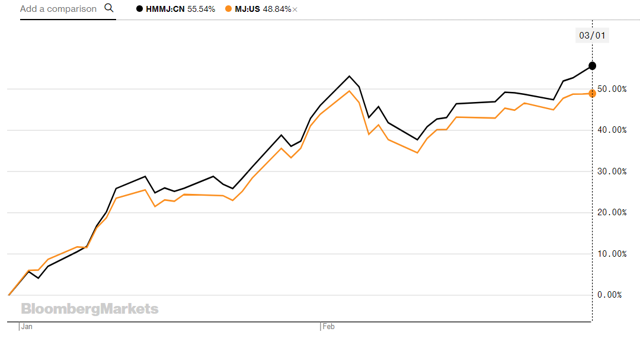 Canadian Large-Cap: Canopy (CGC) gained 5.6% after it signed up Martha Stewart to help with its product development. Tilray (TLRY) was up 0.6% after it closed the acquisition of Manitoba Harvest. Cronos (CRON) lost 1.0% and it will report quarterly results on March 26 after shareholders approved the blockbuster deal with Altria. Aphria (APHA) was down 0.4% after announcing a global licensing deal with Manna Molecular to produce and sell transdermal patches. Aurora Cannabis (ACB) also gained 5.5% after it received sale licenses for its Sky and MedReleaf's Bradford facilities.
Canadian Mid-Cap: CannTrust (CTST) began trading on the NYSE last week and finished the week down 1%. HEXO (HEXO) lost 3.2% after OrganiGram (OTCQX:OGRMF) won a contract with the Quebec government and latter's stock soared 11.8%. TGOD (OTCQX:TGODF) advanced 18.7%