Welcome to the July 2018 edition of the "junior" lithium miner news. I have categorized those lithium miners that won't likely be in production before 2020 as the juniors. Investors are reminded that most of the lithium juniors will most likely be needed in the mid 2020s to supply the booming electric vehicle [EV] and energy storage markets.
July saw several of the lithium juniors continue to make good progress, despite harsh equity market conditions stirred up by trade wars.
Lithium market and prices summary
During July, 99.5% lithium carbonate China spot prices were down 1.85%. Global Lithium Carbonate Equivalent [LCE] contract prices are around US$16,000/tonne, and are up about 20% on 2017 prices. SQM reported its average LCE contract price in Q1 2018 was US$16,400/MT.
China Lithium Spot prices - ~USD 20,000/tonne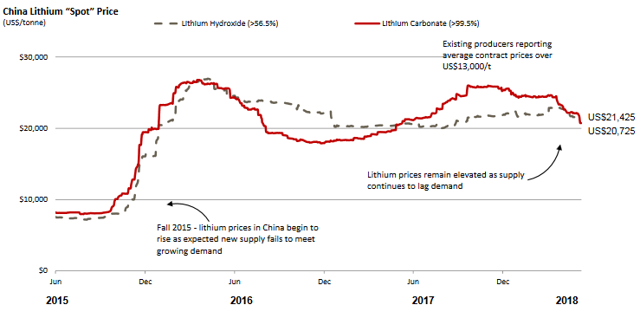 Source: Lithium Americas June 2018 company presentation
Lithium market news
For a summary of the latest lithium market news and the "major" lithium company's news, Concluding Below :
Goldman believes investor concerns about a wave of supply of the electric car battery material from new mines are unfounded. The selloff in companies tied to lithium is overdone.
Ken Brinsden says: "I think there is a disconnect between the speed at which lithium markets are developing, the pace of change and growth in the lithium supply chain when compared to how equity markets are performing." "There is insatiable demand for lithium."
LG Chem to build $1.8 bln EV battery plant in China. CATL will build Europe's first electric car battery plant in Germany.