Deep Value Hidden In The Shares Of Global Self Storage
GLOBAL SELF STORAGE - SELF NASDAQ
Current Dividend Yield 6.5% - REPORT
Summary
In Q3, Global Self Storage outperformed the industry by several dimensions of analysis.
Moreover, Q3 operational results represent just the next data point in what is becoming an extended sequential history of superior quarterly outcomes.
Further in-depth investigation reveals the attributes of significant value and growth that are presently not being recognized by the market.
Persistently Outperforming the Industry
The information of the below table was taken directly from the most recent Corporate Presentation (November 26th) of Global Self Storage (NASDAQ:SELF) and is accessible here. Therein are contained SELF's Q3 same-store operational results, alongside those of Public Storage (NYSE:PSA), Extra Space Storage (NYSE:EXR), Cube Smart (NYSE:CUBE), Life Storage (NYSE:LSI), and National Storage Affiliates (NYSE:NSA).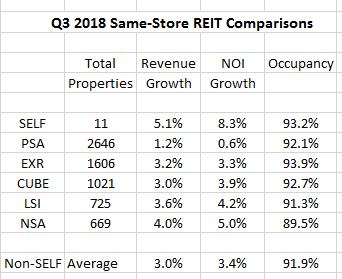 During Q3, SELF's same-store revenue growth was 1.7 x the industry average and its NOI growth was 2.44x the industry average, while it maintained end-of-quarter occupancy at 1.3% above the industry average.
Indeed, outperforming the industry quarter after quarter is becoming quite routine for the company. For example, see the articles: "Global Self Storage Logs Exceptional Growth During Q2" (August 17, 2018) and "Splendid Growth Rates Reported by Global Self Storage" (August 22, 2017). Each of these presents similar tables that depict industry-leading operational performance. By doing some simple research, the interested reader can further derive industry preeminent comparative outcomes for each and every recent interim quarter. On that basis alone, the market must be impressed with both the company's underlying strategy, as well as management's competence in implementing that strategy. From Seeking Alpha - David Brown CFA
Disclaimer

The author of this communication has been paid by the Company for distribution services to disseminate articles written about the Company to the author's subscribers. The opinions expressed in the foregoing communication are those of the author. They do not purport to reflect the opinions or views of the Company, its affiliates, or their representatives. Neither the Company, nor any of its affiliates or representatives, makes any representation or warranty, express or implied, as to the accuracy or completeness of the information contained in the author's communication or in any other written or oral communication transmitted or made available to the recipient by the author hereof. The Company, and its affiliates and representatives, expressly disclaim any and all liability based, in whole or in part, on such information, errors therein or omissions therefrom. This communication shall not constitute an offer to sell or the solicitation of an offer to buy the Company's securities.
About WallStreetResearcher.com :

WallStreetResearcher.com is a subsidiary of Target Publishing Inc, and is a leading publisher of todays market and investment news, commentary, proprietary research and videos from seasoned journalists, analysts and contributors covering the financial markets and global economies. Leveraging our extensive distribution network and social media presence, we have cultivated a valuable audience of engaged market enthusiasts, which in turn delivers a variety of unique opportunities for industry partnerships, corporate communications, market exposure and investment. The article does not constitute investment advice. Each reader is encouraged to consult with his or her individual financial professional and any action a reader takes as a result of information presented here is his or her own responsibility


complete disclaimer can be viewed HERE